At The Vineyards, "Quality" does not stop with just the things you can see and feel. Each and every home built exceeds the minimum "Energy Star" and "Indoor airPLUS" requirements:
Extra steps are taken to seal penetrations in the homes building envelope with foam, caulking and air barriers
A blown cellulose wall spray insulation is used as standard instead of the inferior, fiberglass batt used by most builders
When the home is almost ready for delivery, it is subjected to an independent third party certification and a blower door test to insure that it meets our standards

Energy Star
The blue ENERGY STAR label on a new home means that it was designed and built to standards well above more other homes on the market today.
Certified homes are designed and built so that all energy efficiency systems and features work together to deliver better performance, from the ground up: better durability, better comfort, and reduced utility and maintenance costs.
Energy Star Features
Efficient duct system
Properly installed insulation
Qualified cooling and heating equipment, windows, appliances and lighting
Mechanical ventilation
High efficient water heaters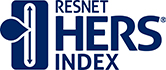 HERS Index
The HERS Index is a measurement of a home's energy efficiency. The HERS Index Score will tell you how well the home performs energy-wise, and will outline the energy features of the home and the expected cost of utility bills. The lower the number, the more energy efficient the home. A home built to the 2004 International Energy Conservation Code is awarded a rating of 100. Our 1845 sqft model home with a cathedralized attic scored a 50, and our 1756 sqft model with solar panels scored a 38.
HERS Index Variables
All exterior walls (both above and below grade)
Floors over unconditioned spaces (like garages)
Ceilings and roofs
Attics, foundations and crawlspaces
Windows, doors, vents and ductwork
HVAC, water heating, and thermostat systems

Indoor airPLUS
In order to earn the Indoor airPLUS label, additional home design and construction features are added to help protect qualified homes from moisture and mold, pests, combustion gases and other airborne pollutants.
Before the home officially earns the Indoor airPLUS label, it is inspected by an independent third-party to ensure compliance with EPA'€™s rigorous guidelines and specifications.
Indoor airPLUS Features
Moisture and mold control
Radon-resistant construction
Pest barriers
Effective heating, ventilating and air-conditioning systems
Safe combustion
Healthier building materials